April 1, 2022 Ian Lewitz
While we were excited to be back at an in-person garden and landscape expo at the Alliant Energy Center in Madison in February, we also knew the event wouldn't be complete without a virtual component.
Over the past two years, our virtual exhibits have attracted over 46,000 attendees from across the state and beyond, including Brazil and Australia! It has been exciting and rewarding to provide deep and innovative educational opportunities and to see attendees engage so fully with the content and each other.
Virtual events increase access, extend the footprint of our traditional events and broaden our audience. This is why we are committed to including virtual options as part of our overall event strategy going forward.
As we prepare for the Garden & Landscape Expo's virtual spring kickoff on Saturday, April 9, we reached out to Kristin Korevec, PBS Wisconsin's Special Events Manager, and two other PBS Wisconsin staff to find out how the virtual event is set up. You can register now for the free event at wigardenexpo.com.
Kristin Korevec: Months of planning and preparation across many departments at PBS Wisconsin bring the experience to life. Our virtual spring kickoff aims to unite the gardening community through educational opportunities focused on content related to the upcoming spring planting season.
The event includes educational presentations with live Q&A, virtual 360-degree video garden tours, a panel discussion with experts from UW-Madison Extension Horticulture, an image gallery from our annual backyard photography, online activities for kids and more.
Each educational presentation is pre-recorded by our production team on Zoom. During a pre-production phone call, one of our producers, Tina Hauser, who is also the executive producer of the PBS Wisconsin series University Squareworks with each presenter on framing and lighting their shot, checking internet connectivity, and determining which visuals (such as PowerPoint slides) will be edited later.
Our team then delivers a kit of recording equipment to each presenter, allowing us to produce a higher quality video. Once the presentation is recorded, the video goes through editing, audio sweetening, technical checks and quality control. Finally, between six and ten hours are devoted to subtitling each video.
During the live event, we are in the PBS Wisconsin studios to produce and host a Q&A session with each presenter. There is a full team of production, engineering and operation personnel. Our moderator, Ben Futa, host of PBS Wisconsin's Digital Gardening Series Let's grow stuffis on set to host the Q&A live.
Each pre-recorded presentation is streamed on the Garden & Landscape Expo website as well as our YouTube and Facebook pages. At the end of the video, the presenter joins us live via Zoom. Our team collects questions from the public from the chat on all three platforms, then forwards those questions to Ben via a Google Doc. Ben and the presenter appear on a split screen as Ben poses questions to the audience in a conversational format. A live captioner is on hand to caption the conversation.
Mary Pokorney-Donelan: I am the coordinator and lead producer of the live Q&A portion of the Virtual Spring Launch of the Garden and Landscape Expo. I serve as a link between our remote guests and the studio team. I am connected to everyone by radio.
It's my job to make sure our presenters join at the scheduled time and put them in touch with our host. During the event, I keep track of the segments and make sure we hit the right times. I also give directions to our host about times and questions. If there are any last minute changes, I make sure to pass this information on to our moderator, presenter and team.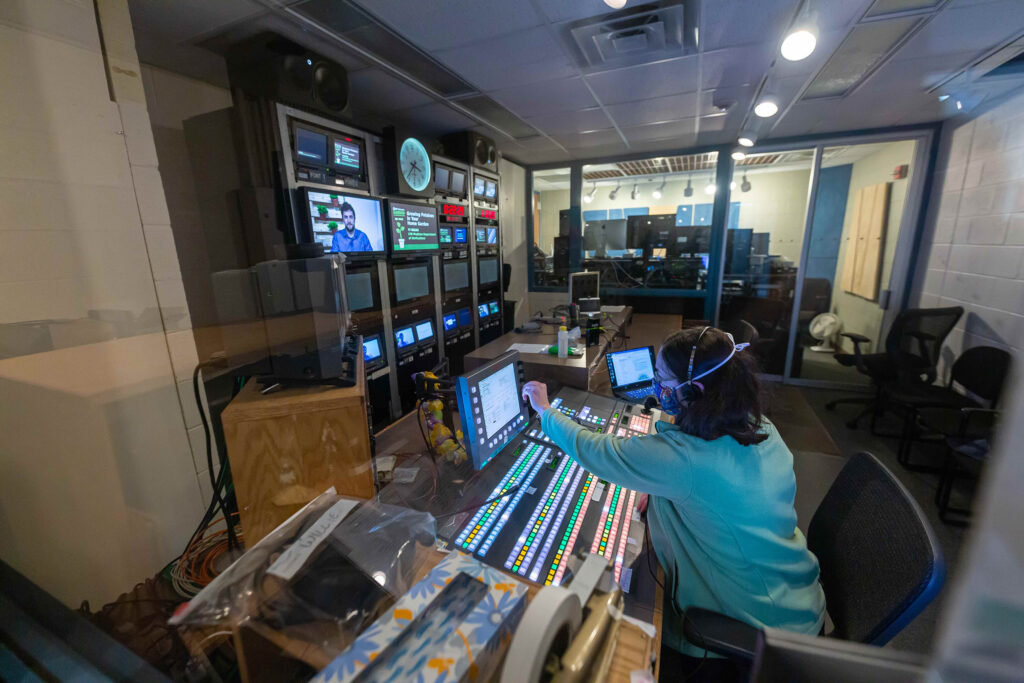 Eric Schwierske: I'm one of the engineering supervisors at PBS Wisconsin. My main involvement in our Virtual Spring Kickoff live streams is designing the signal flow that allows everyone to participate in producing the video and audio signals they need. This includes live packaging and delivery of the finished product to online viewers.
Fortunately, PBS Wisconsin has a strong tradition when it comes to live streaming. This means we can use our existing studio infrastructure to reliably deliver production to viewers for a virtual event. Most of my work is completed in the pre-planning stages. Once we get to the day of the event, I'm there to help with any last minute issues that arise. I also help coordinate the engineering team working on the event: a video engineer, a sound engineer and a streaming engineer.
Korevec: It takes an incredible amount of planning and coordination across the station to achieve a high-quality virtual experience. The past two years have driven us to innovate and reinvent how we use events to reach our audiences and expand PBS Wisconsin's mission in new ways. While we're happy to be back to in-person events, we're also excited to continue learning and refining our approach in the virtual realm – bringing you engaging educational content to enjoy from the comfort of your own home, at your convenience.
I hope you'll join us for the Garden & Landscape Expo virtual spring kickoff on Saturday April 9th. You can register now and view the full program at wigardenexpo.com.
Behind the Scenes Gardening Education Events Garden & Landscape Expo Spring Gardening